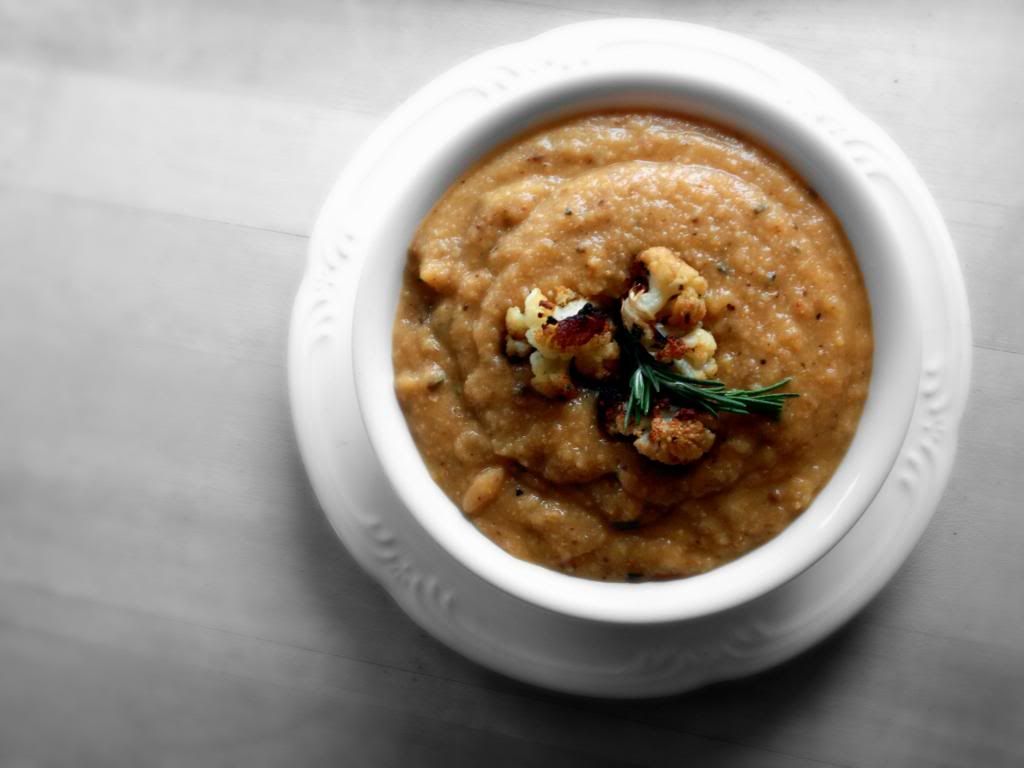 I know it's almost July, and a recipe for hot soup is probably not what you're looking for, but when your air conditioner is in the kitchen (your favorite room in your house), and the kitchen is where you can be found at all hours of the day, you're going to make something hot to warm up those bones of yours. I mean I can only wear so many layers in the height of summer without looking completely nuts. And yes, I do take advantage of the heat and make my way outside to eat, but I'm also paranoid that I'm getting a sunburn pretty much everyday of the year. So if you don't have a large umbrella and a hat for me, maybe invite someone else over - we'll meet up again come October.
Even if you have to wait a few months, make this soup. It's delicious. Roasted anything will pretty much guarantee you a sweeter, more flavorful meal. And when you're throwing onions into the mix, they basically come out caramelized, and like a fried egg, caramelized onions can send any recipe over the top. If you've made
Greek lemon-roasted potatoes
before, this is sort of a soup version of that, just lightened up a bit with the addition of cauliflower. And I'm not sure who's familiar with the Plymouth, MA area (pilgrims, mayflower, think back to your early school days), but my absolute favorite breakfast/lunch/dessert spot,
Blue Blinds
, serves an incredible butternut bevy soup, where rosemary-roasted butternut squash meets creamy feta meets my mouth. And somehow, in my crazy mind, this caramelized cauliflower and onion bisque is on it's way to being that coveted butternut bevy, with a lot less butter I'm sure. Even without any changes it bares a pretty strong resemblance, but if I sub the majority of the potatoes with butternut squash and throw in some feta cheese, I think I'll find my new favorite thing- check back for an update on that.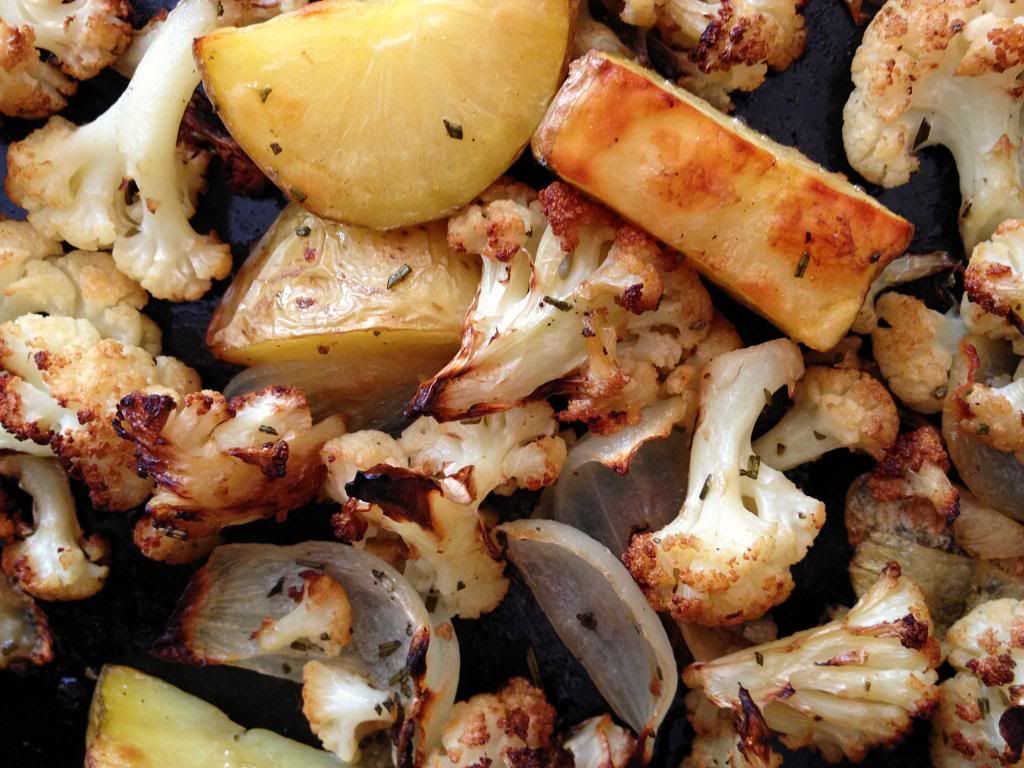 If you're ever in the
Plymouth
area, make sure you check out
Blue Blinds Bakery
. Located in America's homeland, in a gorgeous old colonial, everything is made in house, and primarily organic. Their breads are out of this world (all my friends swear by the jalapeno cheddar). They're hours can be a little tricky, and they're closed on Saturdays, so make sure you call ahead to guarantee they're open. I'm sure everything on the menu is delicious, but my frequent visits include the aforementioned butternut bevy (soups are always changing with the seasons), caprese sandwich, egg and cheddar on cranberry almond bread, incredibly fluffy and nutty spelt pancakes, dried fruit, nut, and carob clusters (appropriately named plymouth rocks), and an iced lemon maté to wash it all down. And if that doesn't entice you, come for a little history of where it all began.
Caramelized Cauliflower + Onion Bisque
make sure to leave the cauliflower, onions, and potatoes pretty chunky for roasting
2 heads cauliflower, core removed and chopped into rough florets
2 lg Vidalia onions, chopped into 2-inch pieces
4 sm-med yukon gold potatoes, chopped into 1-2 inch pieces
3 sprigs fresh rosemary, minced
4 tbsp olive oil
sea salt + pepper
1 lemon, halved, plus 1 more for after pureeing
4 cups vegetable broth
3 or so cups water
Preheat your oven to 400ºF.
Spread the cauliflower, onions, and potatoes onto a couple baking sheets, and divide the rosemary and olive oil between the two. Sprinkle with sea salt and cracked black pepper, and give it a toss.
Roast the vegetables for about an hour, tossing everything a few times along the way to promote even browning. When everything is nice and caramelized, remove from the oven, and squeeze your lemon halves over the top, dropping the lemon rinds themselves onto the hot pans afterwards. Scrape up all the brown bits from the bottom of your pans while you spread the lemon juice around.
Throw everything into a big soup pot and add your broth. Using an immersion blender (or let cool slightly for a regular blender), puree the soup, adding water along the way until you reach your desired consistency. Leave it slightly chunky for some good texture (no baby food here). Stir in the juice of an additional lemon (I LOVE lemon, so maybe start with half, or none at all), taste for seasoning, and pour yourself a bowl of comfort on this warm and sunny Saturday.