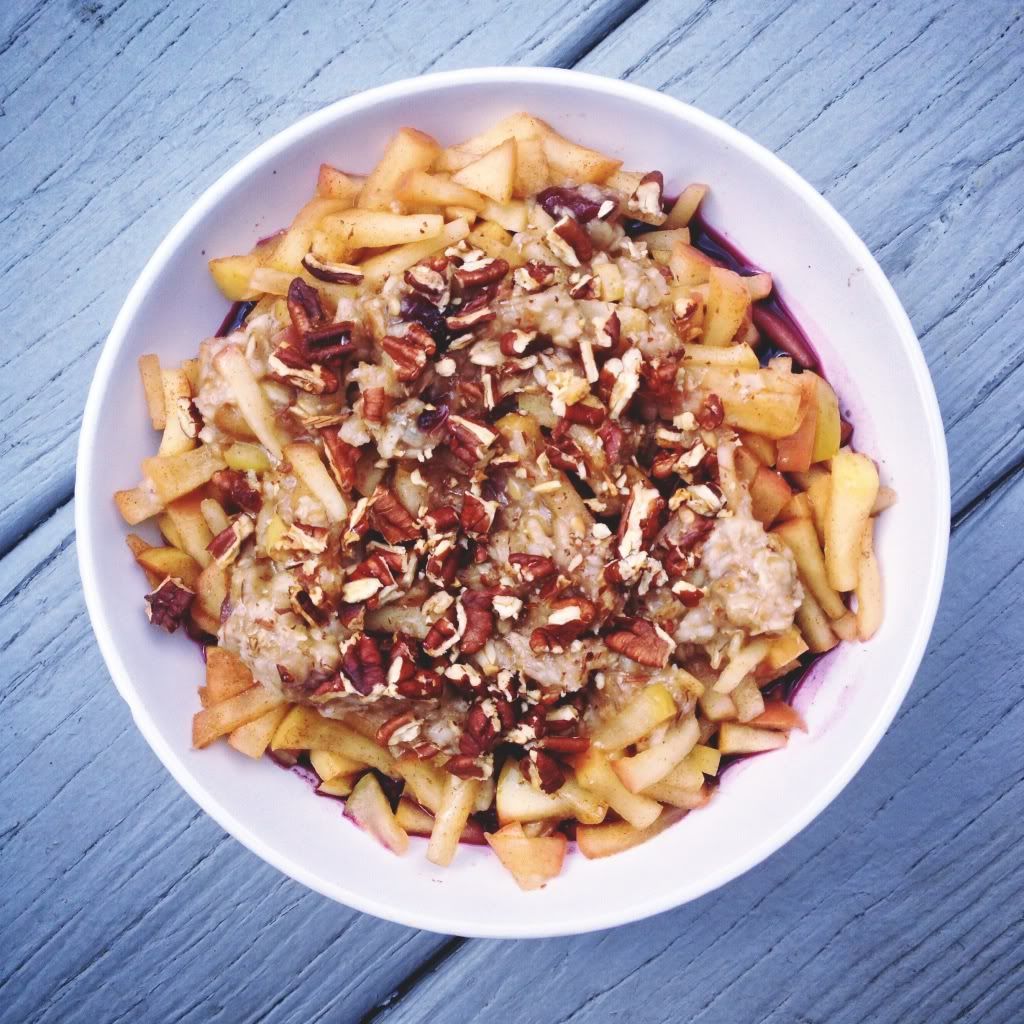 I spent the end of August traveling North to Montreal, and it has really put me in the mood for the crisper months ahead of us. The weather up north was absolutely perfect.
Not too hot, not too cold. All you need is a light jacket.
It was so nice to explore the city by foot without the humidity we'd be getting back home. Old Montreal was like a trip back to Europe - I could walk for days taking in all the history. The cobblestone streets, beautiful architecture, and delicious food made for a perfect way to spend a long weekend. I'll share some more of our trip to Canada soon.
We decided to skip breakfast in Montreal before heading home, and instead stop in Burlington, VT for a change of scenery. I'd never been to Burlington, but with all the granola-eating, Birkenstock-wearing images conjured up around Vermont, I knew we'd hit it off. And we did just that. The leaves have already started turning up north, and we happened to be traveling through during welcome-back-week for the University of Vermont students (the things I'd do to be back in college). The homes were so wonderfully dated, and their dedication to local, wholesome foods is something I could really get into. I always wonder why restaurants in Massachusetts don't get more involved with sourcing local ingredients. Everything we ate seemed to be produced at a farm down the street. We finally hit Burlington around lunchtime (traffic at the border was nuts!), and of course I had researched a restaurant during our drive south. The menu at
The Farmhouse Tap + Grill
made for an easy decision. My mom and I got veggie burgers, and I topped mine with braised kale and caramelized onions. Incredible. I also got a fresh pressed apple, carrot, ginger juice to start. I really need to juice more. We ended our indulgent weekend of eating with a slice of homemade blueberry pie a la mode, and a sweet and tangy chevre and honey trifle. I highly recommend a trip to The Farmhouse if you're ever in the area. I'll definitely be back to eat my way through their menu.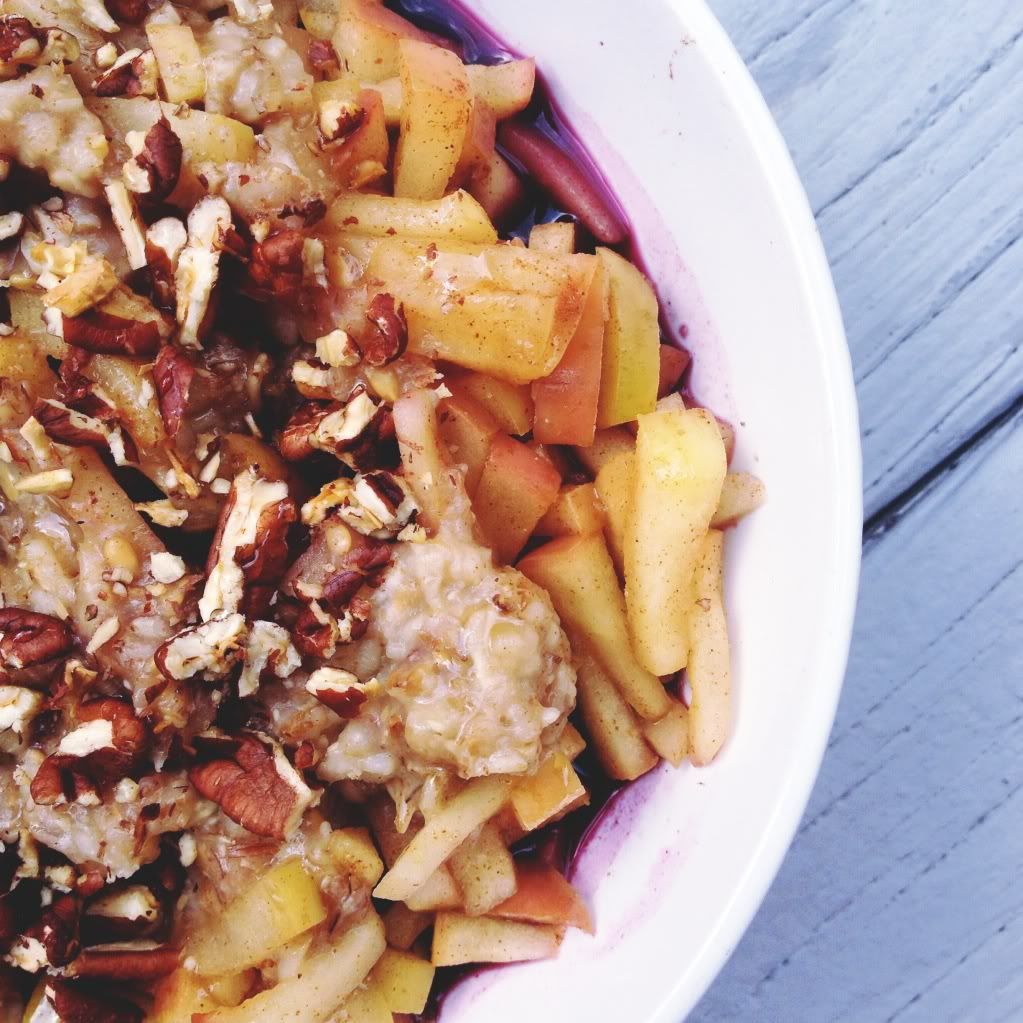 Driving through the green mountain state, on our way back to Kingston, I knew I wanted to plan this years apple picking weekend up here in Burlington - mostly so I could enjoy another meal up here. Is it strange that I plan all activities around eating? Most of the time you can find me at my computer eating one meal and researching my next. In fact, I think a lot of my unruly spending comes from trying to keep myself busy until I can eat again. So in hopes of bringing home some of that autumn air, I bring you apple pie oatmeal infused a bit with the delicious blueberry pie we enjoyed in Vermont. Creamy oats served atop warm, spiced blueberries all covered with soft and sweet cinnamon, maple apples, and finished with a sprinkling of toasted pecans. I. Want. Fall.
Apple Pie Oatmeal
Serves 1
1 apple, finely diced
1/2 tablespoon maple syrup
1 teaspoon cinnamon
1/2 cups oats
1/2 cup apple juice
1/2 cup water
1 teaspoon vanilla extract
1 teaspoon maca powder
2 tablespoons dried cranberries
1/2 cup frozen blueberries
1/2 teaspoon cinnamon
2 tablespoons pecan, toasted
Place the diced apple, maple syrup, and teaspoon of cinnamon in a bowl. Cover with plastic wrap, and microwave for about two minutes until soft. Alternately, you could saute these ingredients on the stove top. Set aside while you prepare your oats.
Add the oats, apple juice, water, vanilla extract, and maca powder to a small saucepan. Bring to a boil, reduce heat to medium/medium low, and simmer until your liquid is absorbed and the oats are nice and chewy. Throw in the cranberries towards the end of cooking so they can soften up.
Microwave the blueberries in the bottom of your serving bowl. Mash slightly with the 1/2 teaspoon of cinnamon. Pour your oats over the warm blueberry mash, and top with the softened cinnamon apple chunks. Sprinkle with toasted and chopped pecans, and a drizzle of honey or maple syrup.