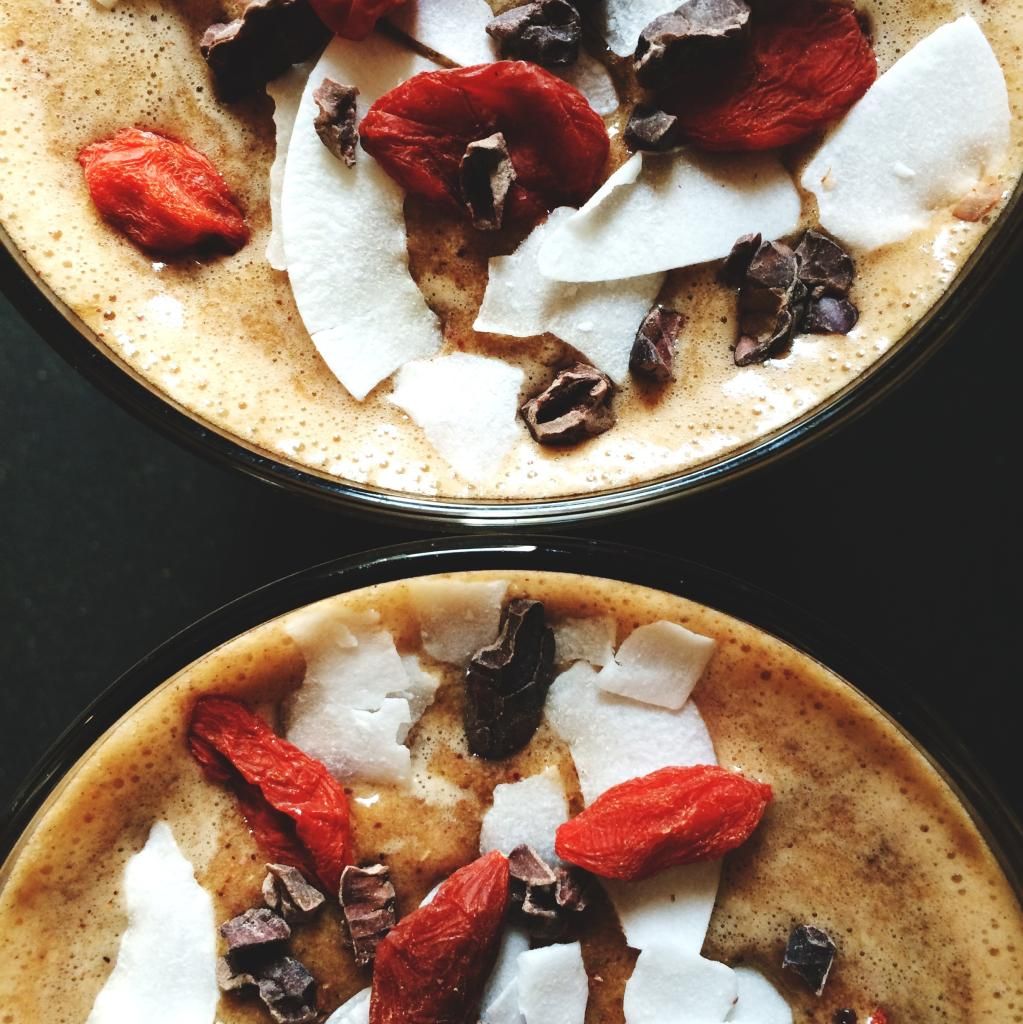 Living outside of the city can have its setbacks when it comes to finding healthy, vegetarian fare. And until the juice bar craze set in, there were pretty much no local restaurants that I actually felt good about eating at. I guess there still aren't since we're talking about drinking here rather than eating, but I'll take what I can get. I think about this quite a bit, and often wonder why on Earth I'm still slumming in the suburbs. City living seems more my speed. It would be nice to step out of my comfort zone, explore a new territory, get out of the house a little more. But then how could I keep up this lazy, homebody facade I've seem to mastered in the past 28 years? And the mere thought of having to put on real pants everyday seems a little inhumane. I do love walking, but walking in 20 degree weather, or when it's snowing, or raining, or not sunny and 70? I wore a down jacket while vacuuming my more than comfortable 75 degree house yesterday. The struggle is real.
This recipe was inspired by one of my favorite smoothies at a local juice bar,
The Green Light
. They opened up shop in the town next to mine about a year ago, and it's been really nice not to have to drive 30 minutes for a green juice. Besides having delicious skin and body loving superfoods and drinks, everyone working there is so nice and knowledgable about health and wellness. The owner and his partner are so passionate about this lifestyle, that I'm always learning something new when I stop in. I have them to thank for my love affair with wheatgrass. And although daily juice bar trips can really put a dent in your wallet, when you make your health a priority, it doesn't seem to hurt so much. You might stop spending money on things that don't have as big an impact on your well being...until you see a Target.
Coconut Goji Chip Smoothie
The addition of frozen watermelon adds such a great slushy
texture to a smoothie, while really bulking it up for little calories and
lots of skin loving vitamins and antioxidants. I stock up over the
summer, and freeze it by the bagful.
1 1/4 cups coconut water
1 banana, frozen
1 cup diced watermelon, frozen
1 tablespoon goji berry powder (or 2 tbsp whole berries)
2 tablespoons cacao nibs
Blend everything together, and enjoy! Top with additional goji berries, cacao nibs, and coconut flakes if you're feeling extra fancy. Sip, slurp, and dream of summertime. xx