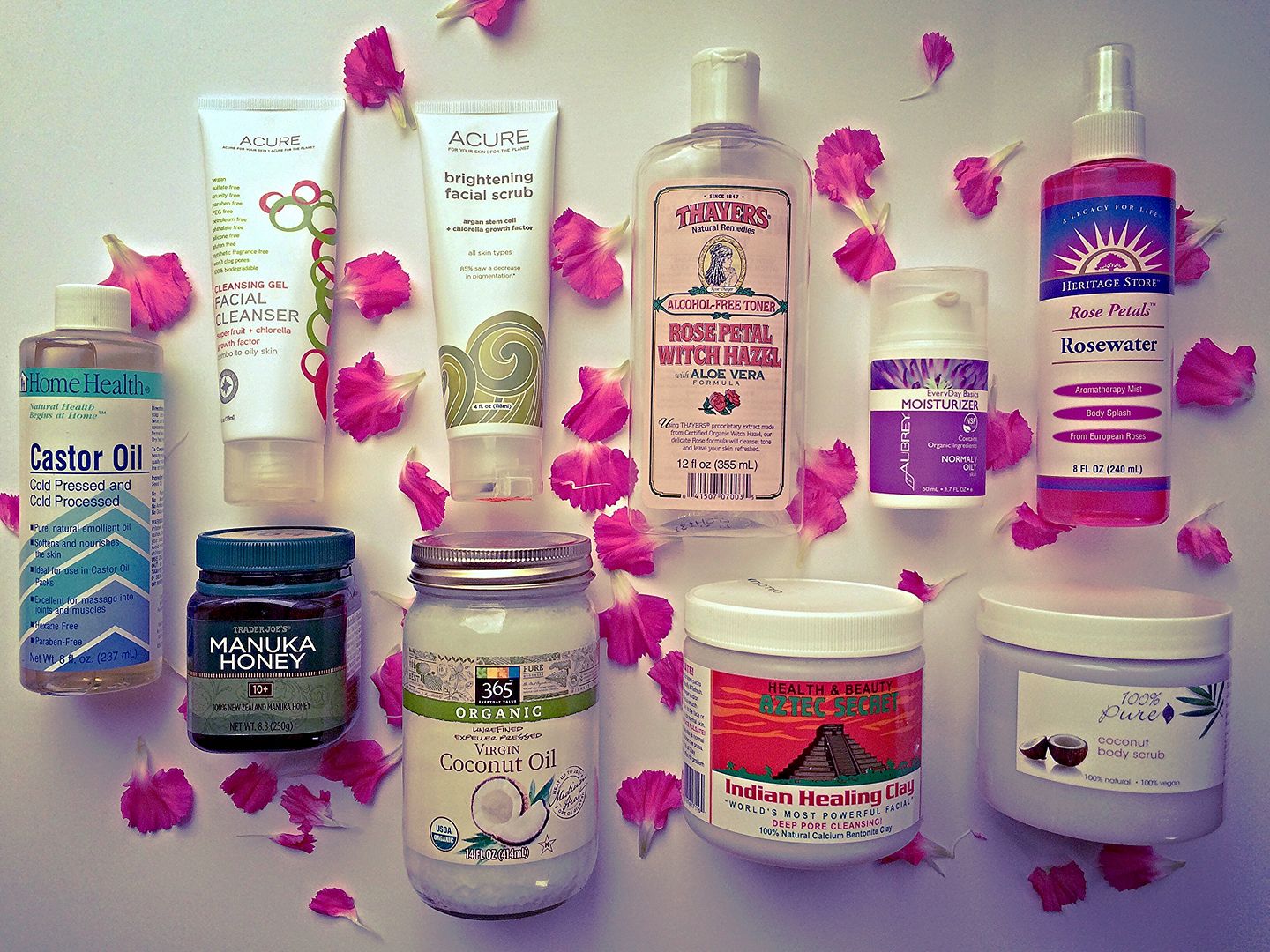 I'm on a life mission to find amazing, all-natural skin care products that are just as effective as the high end ones, but at a fraction of the price. I just can't seem to rationalize spending $75 on something I'll have to repurchase every few months
#helpmeimpoor
. Besides, most of the pricier products I covet are made with the same earth friendly ingredients that I could definitely find at Whole Foods or Amazon. And if I wasn't so lazy, I'd probably DIY a few beauty concoctions of my own, but again, lazy. The following list contains my tried and true skin care besties. Please don't ever discontinue. I'm too poor and lazy to keep looking.
1.
Acure Facial Cleansing Gel
This face wash is hands down the best and most affordable cleanser I have come across to date. There is not one ingredient on the antioxidant packed list that is foreign-sounding or toxic. It's foaming (huge!), great at washing away makeup, and contains organic chlorella growth factor which is supposed to diminish fine lines and increase new cell growth. Organic ingredients that fight aging for under $15? Yes please!
2.
Acure Brightening Facial Scrub
Of course I had to get the accompanying scrub. Same toxin-free ingredients at the same price, but the scrub features organic sea kelp to gently exfoliate. The organic French green clay and lemon peel allow this scrub to double as a purifying mask. I'll leave it on for about 15 minutes before scrubbing away dead skin cells, and revealing an uber soft, free radical fighting complexion. I give my face a scrub down about twice a week.
3.
Thayers Rose Petal Witch Hazel Toner
I started incorporating witch hazel into my routine after a girl I know (with flawless skin) told me she swore by it. I started with their alcohol-free lavender version, before the whole rosewater craze hit, and then I jumped on the bandwagon and never looked back. I wipe it all over my face and neck with an organic cotton ball after washing/scrubbing, and follow it up with a moisturizer.
4.
Aubrey EveryDay Basics Moisturizer for Normal/Oily Skin
I love Aubrey beauty products. Everything they make is so clean, it would be hard to find a more economical brand with such an extensive product line. Skin care, hair care, makeup, sunscreen, deodorant, men's, baby, gluten-free, they seriously have it all. This particular moisturizer comes in two types, which I was unaware of until now. One for normal/oily and one for normal/dry. I have the purple (oily) one, which features organic quinoa protein, witch hazel, and aloe vera to balance skin, restore softness, and lightly hydrate. The blue (dry) container features organic argan oil, aloe vera, horsetail, and coltsfoot to replenish moisture and improve texture and elasticity. I have always classified my skin on the oily side, but when I purchase this again, I think I'll go with the normal/dry variety. My cheeks always seem to need a bit more moisture after I apply this. Regardless of that, my skin has never felt softer!
5.
Heritage Rose Petals Rosewater
I don't know when exactly this rosewater thing happened, but I am 100% into it. I'm guessing I was reading one of my
favorite beauty blogs
and this was probably the only product that I could afford, so I gave it a shot to feel a little high brow. Hooked. I keep a spray bottle on me at all times. A couple spritzes throughout the day to keep your skin glowing and hydrated is all you need. Bring a bottle to the beach, and give your whole body a soothing and cooling spray down when the humidity strikes. Bonus: spray your face lightly after makeup application instead of using one of the more chemical laden setting sprays. The secret garden smell is just the cherry on top!
6.
Trader Joe's Manuka Honey 10+
Typically I wash my face with either water or honey in the morning, and keep the cleansers for my nighttime routine. I don't usually wear any makeup day-to-day (besides lipstick and an eyebrow filler, because like, I'm alive) so I try not to upset the balance of my skin too much. If I plan on having a full face kind of night, I'll wash my face twice when I get home, or not at all if Kettle One wins the battle, and then twice the next morning followed by a TON of coconut oil (and a green smoothie and wheatgrass shot). This is the most affordable manuka variety I can find.
7.
Organic, Unrefined Coconut Oil
What kind of hell were we living in before coconut oil hit the scene? I can't even remember. Besides its addition to about everything I'm eating or sipping, it's the most wonderful skin moisturizer/makeup remover. It's silky smooth, smells amazing, diminishes fine lines, and provides that model glow everyone's after. I use it every single night after washing and toning, sometimes a little under my eyes and on my cheeks during the day, and always before makeup application to ensure everything glides on smoothly. I buy whichever brand is the cheapest. Usually 365, because I live at Whole Foods.
8.
Aztec Secret Indian Healing Clay
Sunday nights are reserved for a little extra pampering with this amazing clay mask. After I scrub and wash my face (woah), I apply this little miracle. I mix 1 tablespoon of the clay with 1 tablespoon of manuka honey, 1/2 tablespoon Bragg's apple cider vinegar, and 1/2 tablespoon water, adding more clay if it's too runny. I slab on two layers of this, and let it dry for about 30 minutes. Your face will get very tight, making it pretty impossible to speak, which ensures the whole "me time" aspect. After half an hour I rinse my face with cool water, apply witch hazel toner, and then coconut oil. Your skin will GLOW. If I have a breakout or two, I spot treat with tea tree oil.
9.
100% Pure Coconut Body Scrub
I almost got away with an entire list under $20, but this body scrub is just too good. For real. I could eat it. This is usually the last step when I'm in the shower, because I only barely rinse it off. It's so luxurious and delicious smelling that I don't want to wash it all down the drain. It's almost $30, so I usually only use it once a week (so sad). It leaves this incredible layer of moisture over your entire baby-soft body, and THAT smell?! Addicting. I follow it up with the matching body cream as a guarantee I will smell incredible for the remainder of the day. All of 100% Pure products are next level. It's the first makeup I got into when I switched over to more skin friendly options. The packaging is beautiful, and the products are effective. I dream of 100% Pure boutiques on the East Coast.
10.
Cold-Pressed Castor Oil
This one is a new edition to the nighttime routine. I heard amazing things about castor oil and hair growth, so I gave it a shot. I rub a little on my eyebrows and eyelashes each night, and pray that I wake up looking like
Carli Bybel
- how gorgeous is she BTW? I'll keep you posted on this one. It's only been a few weeks, but I think one of my brows is definitely stepping it up.
The only thing missing here is a great sunscreen. I have yet to find an amazing toxin-free moisturizer containing an SPF 30 or higher. I've experimented with a number of all-natural sunscreens, and even though I'm rather pale, they still tend to leave white streaks on my face. I've heard great things about
Pratima Neem Rose Face Sunscreen
, so that's where I'm headed next. A little on the pricey side for something that I'll have to reapply frequently throughout the day, so any other suggestions would be great! And of course it goes without saying, TONS OF WATER is the real secret to that healthy glow. My 1 liter
bkr bottle
tips the scale on this list, coming in at $42. It's my most favorite accessory. A tutu pink, oh-so-chic glass bottle ensures I get at least 2 liters of water in every. single. day. Stay tuned for an earth friendly makeup favorites glow guide - I'm still in the process of nailing down my must haves!