Here is another recipe I originally created for
Sakara Life
, that was inspired by one of my favorite brunch spots,
The Farmer's Daughter
. Situated in the center of town, The Farmer's Daughter brings farm to table fare to the lucky patrons of Easton, MA. Although it's a bit of a drive for those of us on the South Shore, distance doesn't seem to be a barrier for me when it comes to food. I've sampled quite a bit off the menu, and can highly recommend their "knock your socks off" banana pancakes, brioche french toast, eggs benedict, nutella belgian waffles, stonehill fried egg sandwich, huevos rancheros, farm burger, and my tried and true favorite: The Pan-Asian Salad topped with a veggie burger. I've eaten quite a few veggie burgers, and this is hands down my favorite rendition. Quinoa packed, and Moroccan spiced, this burger is typically plated between two buns (also delicious), topped with sweet tomato jam, and served with a side of AMAZING chickpea salad. If you're the normal type of person who can eat bread at a restaurant and not feel guilt, go the traditional route. But if you're more like me, the I-should-probably-add-spinach-to-that type, go for the salad. It will not disappoint. Besides the incredible food, the Farmer's Daughter is decorated impeccably. The high gloss bar and tables are drool worthy, and all the touches of brass really take this breakfast and lunch eatery to the next level. I cannot say it enough: if you live within a somewhat reasonable distance to Easton, go to
The Farmer's Daughter
(and bring me back takeout)!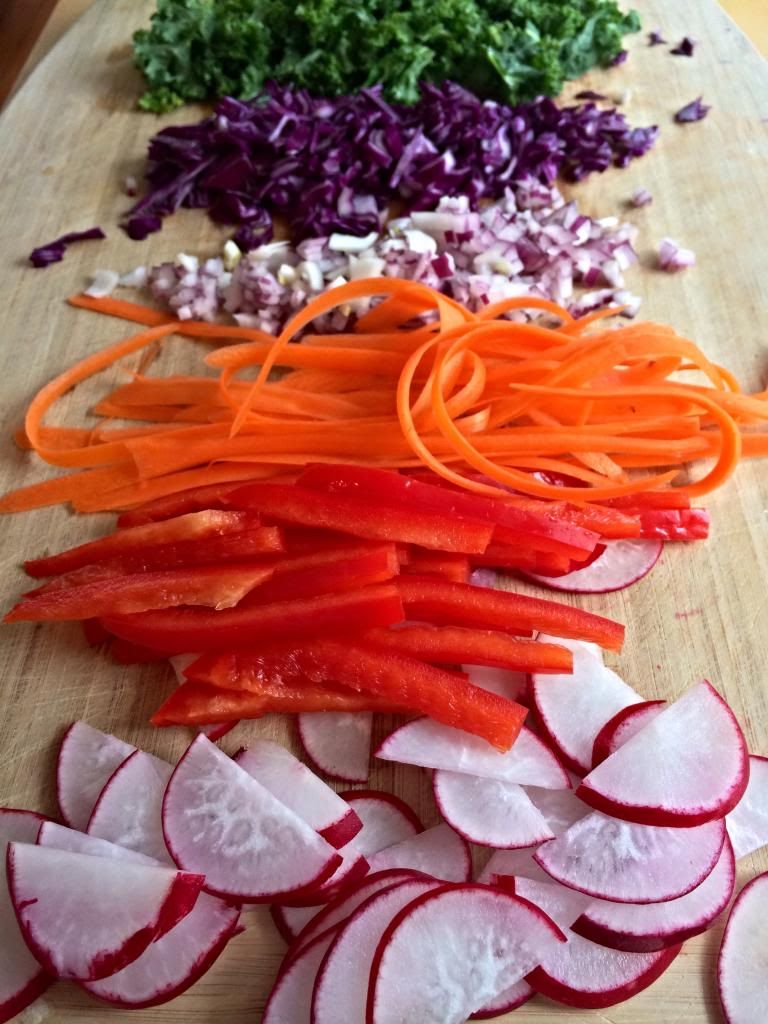 The original version of the Pan-Asian is made with black quinoa and I get it topped with a pretty enormous veggie burger. And while I will always order this favorite when I'm visiting Easton, it can get a little carby to make all the time at home. I opted for the quinoa, and left the veggie burger for my dreams. You might notice the kale in the pictures above also. As the token health nut of the family, I have to confess, I don't love raw kale. I will never put it in my smoothies, and I'd really prefer an arugula or mixed greens salad to a kale version. Sauteed kale, totally different story. But when I'm trying to reach my kale quota for the month/year, I'll choke down a bowl or two.
Pan-Asian Quinoa Bowl
1 serving cooked quinoa
1-2 radishes, thinly sliced
1/2 red bell pepper, thinly sliced
1/2 cup purple cabbage, shredded
1/4 cup onion, minced
1 carrot, peeled into ribbons
2-3 cups organic mixed baby greens
1/4 cup cilantro, finely chopped
1/2 tablespoon black sesame seeds
1/2 cup shelled edamame, thawed
Sweet + Spicy Peanut Sauce
1 heaping tablespoon peanut butter
1/2 tablespoon liquid aminos
1/2 tablespoon honey
1/2 lemon, juiced
1 teaspoon sesame oil
2 cloves garlic, minced
1-inch piece of ginger, grated
1/4-1/2 teaspoon cayenne pepper
pinch of himalayan salt
Start by cooking your quinoa. I usually make a larger batch to keep on hand in the fridge for quick meal planning. Bring 2 cups of water to a boil. Stir in 1 cup quinoa, 1 teaspoon coconut oil, and a pinch of pink himalayan salt. Simmer (covered) on low heat for about 15 minutes. When the water is absorbed, and quinoa looks fluffy, remove from heat. Place a piece of paper towel over the pot, and place the cover over the paper towel. Let cool for about 15 minutes, and you will have perfectly cooked quinoa.
While the quinoa is cooling, whisk together the ingredients for the peanut sauce, set aside.
Add the remaining ingredients to a large bowl. When the quinoa has cooled, add it to the bowl. Pour the sauce over the quinoa and vegetables and mix well. Diced avocado makes a delicious topping, as do homemade veggie burgers. Enjoy! xx