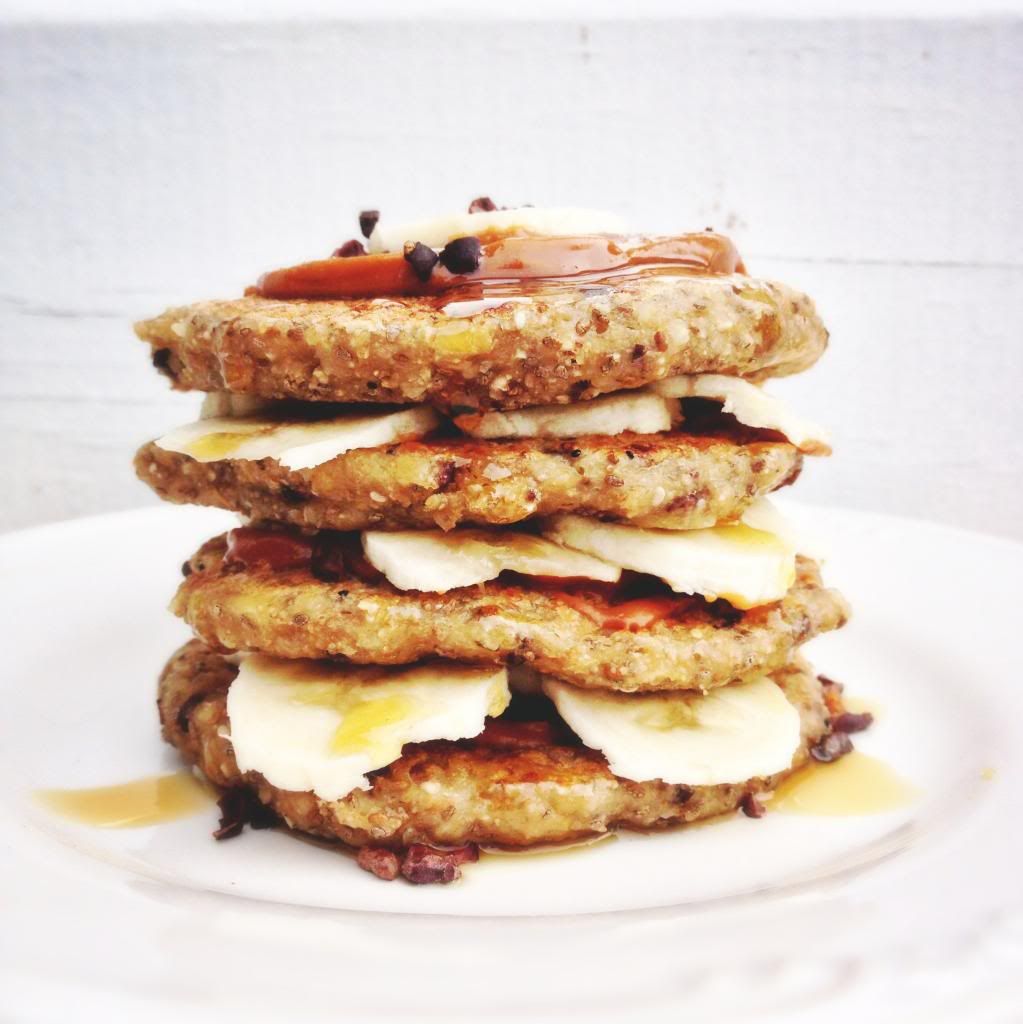 **Another post I did for Sakara Life...enjoy!**
Watching others indulge in garbage over the holidays is motivation for me to up my game in the kitchen. I'm looking for meals that taste like cookies, pies, and pancakes, but feel like salad. Is that possible? These buttermilk knockoffs definitely hit the spot. They're packed with nutritious ingredients, are super satisfying, and are perfectly reasonable lunch and dinner options. Is anything more mouth-watering than a fluffy stack of pancakes drizzled with maple syrup? Probably, but at the moment, no. Obviously my plating skills are above average when I want the pecan-pie-for-breakfast-folks to be a little jealous of what's in front of me. Here's to 2015!
Banana Chip Chia Pancakes
1/4 cup oats, ground
2 tablespoons almond meal (or protein powder)
pinch of sea salt
1 tablespoon chia seeds + 3 tablespoons water (chia egg)
1 large banana, mashed
1/2 teaspoon vanilla extract
2 tablespoons coconut water (or almond milk)
1 tablespoon cacao nibs
Stir together the chia seeds and water, and set aside to thicken. This is your egg replacement. Meanwhile, mix the ground oats, almond meal, and salt in a small bowl. Add the mashed banana, vanilla, and coconut water, and give it a stir. When the chia mixture is thick enough (5 minutes), add it to the pancake batter, along with the cacao nibs. Stir until combined.
Heat a frying pan over medium with a little coconut oil. Use a 1/4 measuring cup to make 4 small pancakes. Cook on medium/medium low for about 5-10 minutes per side. They take longer to cook than your standard pancake. When golden on either side, remove from heat, and start stacking. Layer with peanut butter, more banana slices, and maple syrup.