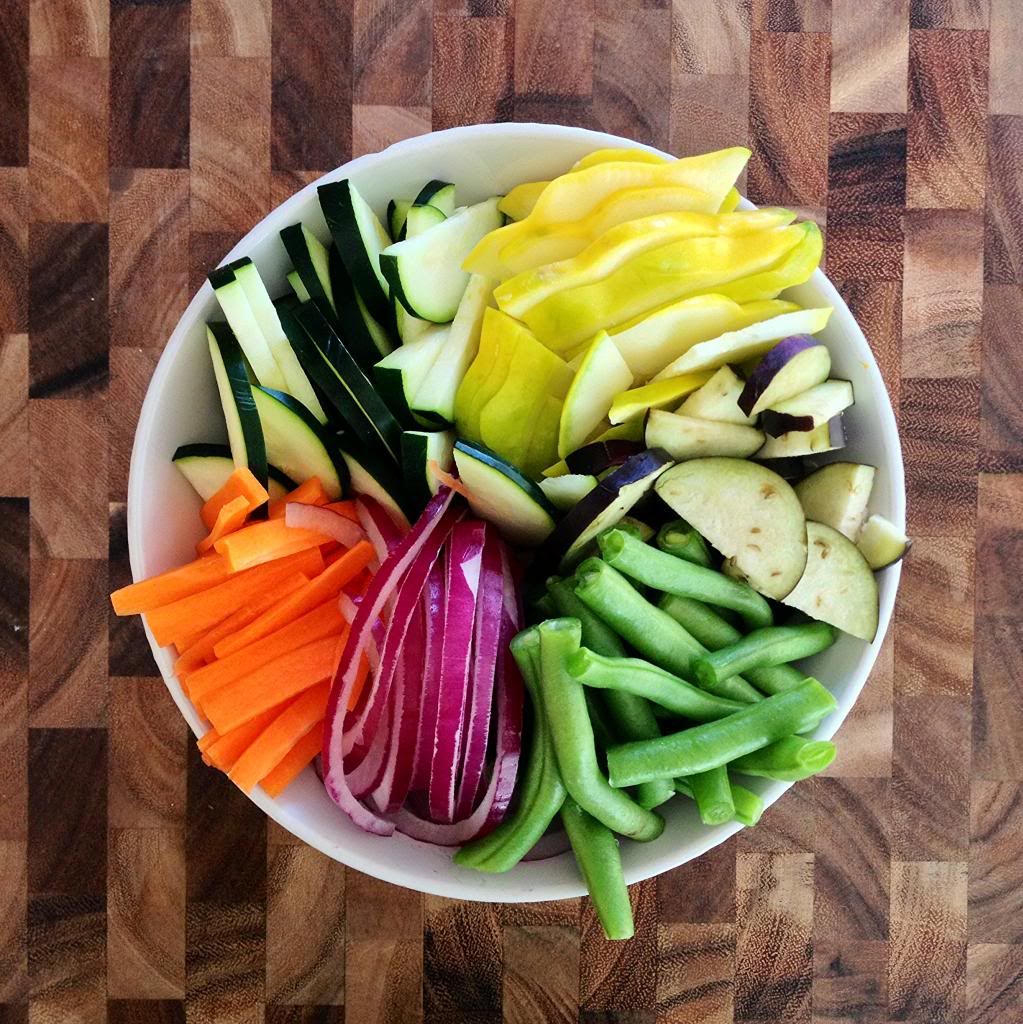 Farmers markets. My favorite part of summer. The whole "market" system makes shopping so enjoyable. I wish we had more markets in the United States. Maybe it's just that I live in New England, and besides the four warm months of summer, and what seems like two weeks of blissful fall, it's mainly cold and wet. I traveled to Italy last October, and fell in love with their open market lifestyle. There are no trips to the nearest big box store or supermarket (from what I saw), but a quick walk to whichever vendor is supplying your need for the day. It's a slower way of life, and one that I could really get used to. I suppose Massachusetts is too high-strung for a change like that.
I love finding a quick and flavorful combination of my favorite vegetables, and then changing up a few ingredients to make completely different meals. I think I've been sautéing zucchini, summer squash, eggplant, and string beans with some garlic and onion for the past two months. They're the veggies that can always be found at my local farmers markets, and I happen to love all of them. And as you might already know, when I find something that works, I tend to eat it. A lot. I've made Asian, Indian, and Mexican meals out of basically the same ingredients. Vary the herbs and spices, alternate between cheese and nuts, and it's quite simple to give your taste buds a change of scenery.
Here's my Italian inspired version on a farmers market stir-fry. I swapped the mozzarella in your typical caprese dish for some local feta, mostly because I like the sharp bite of the feta, and find I can use a lot less than I would mozzarella for the same satisfaction. Don't get me wrong, a classic caprese salad is one of my favorite combinations. I use the tomato, basil, mozzarella trio to inspire a lot of meals.
This soup
I found on
Pinterest
is on my must-make list. I'm also always trying out different grains, and steel-cut oat groats are my new thing. They bulk up quite a bit in water, and more is always better when it comes to eating. They have a high protein and fiber content, and are done cooking in about 30 minutes. I've used them in both sweet and savory dishes (they make a great substitute for oatmeal), and have even soaked them overnight to blend into a raw morning smoothie bowl.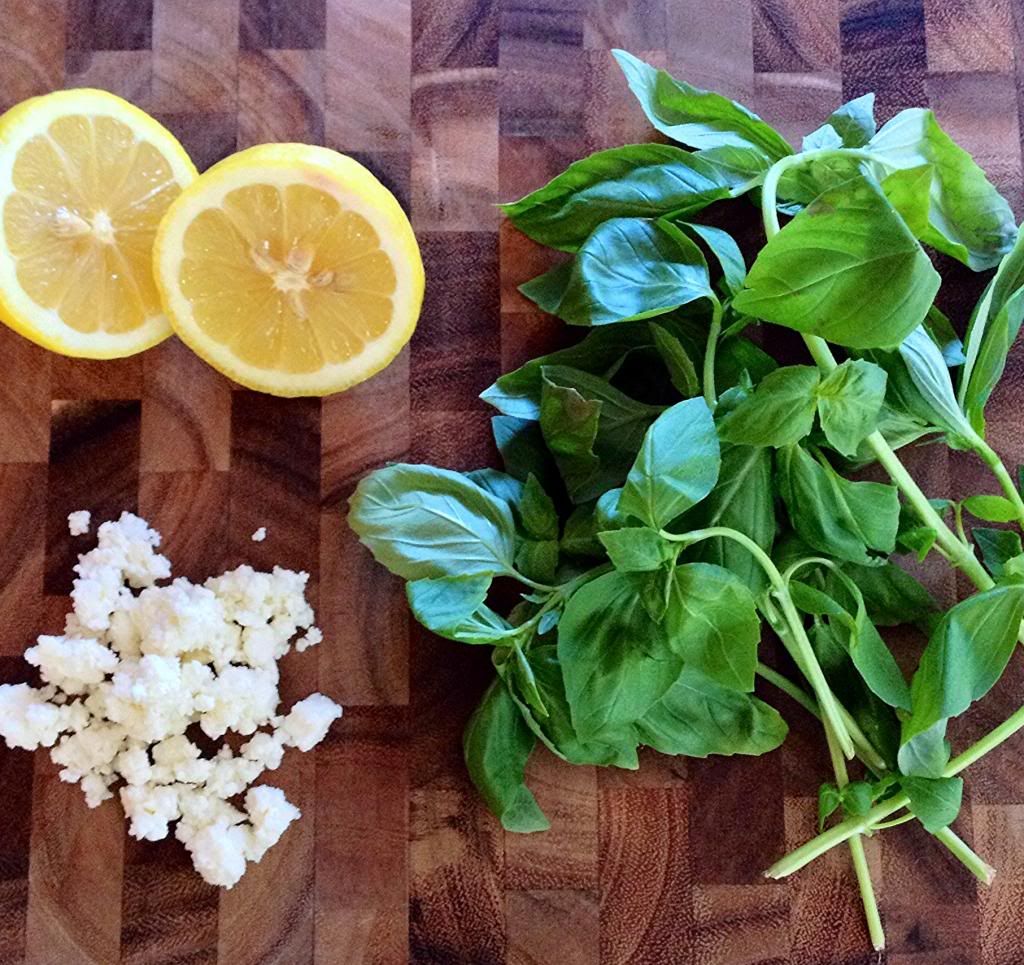 I like a lot of basil and garlic in this dish, but a little feta goes a long way to give you that creamy satisfaction. And if dairy isn't your thing, I've also made this with half an avocado mashed up with some lemon or lime and lots of sea salt. Use whatever you have on hand for vegetables, these are just delicious suggestions. Make it your own. It's hard to go wrong when you start with great ingredients.
Farmers Market Oat Groats with Basil + Feta
Makes 1 generous bowl or 2 sides
steel-cut oat groats, or grain of choice
handful of string beans, trimmed
half of a small zucchini, sliced
half of a small summer squash, sliced
half of a small eggplant, sliced
1 carrot, cut into matchsticks
half a small onion, sliced
handful of cherry tomatoes, quartered
2-3 cloves garlic, minced
1/2 tablespoon olive oil
sea salt and pepper
1/4-1/2 cup chopped basil
a couple handfuls of spinach, chopped
2 tablespoons feta
juice of half a lemon
Cook your oat groats. I make a larger amount, and keep them in the fridge for the week. There's varying cooking methods around the web, but here's what I do... Boil 2 1/2 cups water, then add in your cup of oat groats. Add salt and let simmer on low for about 30 minutes. When the water is almost gone, shut off the heat and let sit for 5-10 minutes.
While your oat groats cook, heat the olive oil in a frying pan over medium heat. Add in all of the vegetables except for the tomatoes, and season with salt and pepper. Saute for about 10 minutes, turn the heat to low and add in the tomatoes and garlic. Cook for a few more minutes, then shut the heat off.
When the oat groats are ready, scoop your desired amount into a bowl, add in your vegetable stir-fry, basil, chopped spinach, feta, and lemon juice. Taste for seasoning, and enjoy!